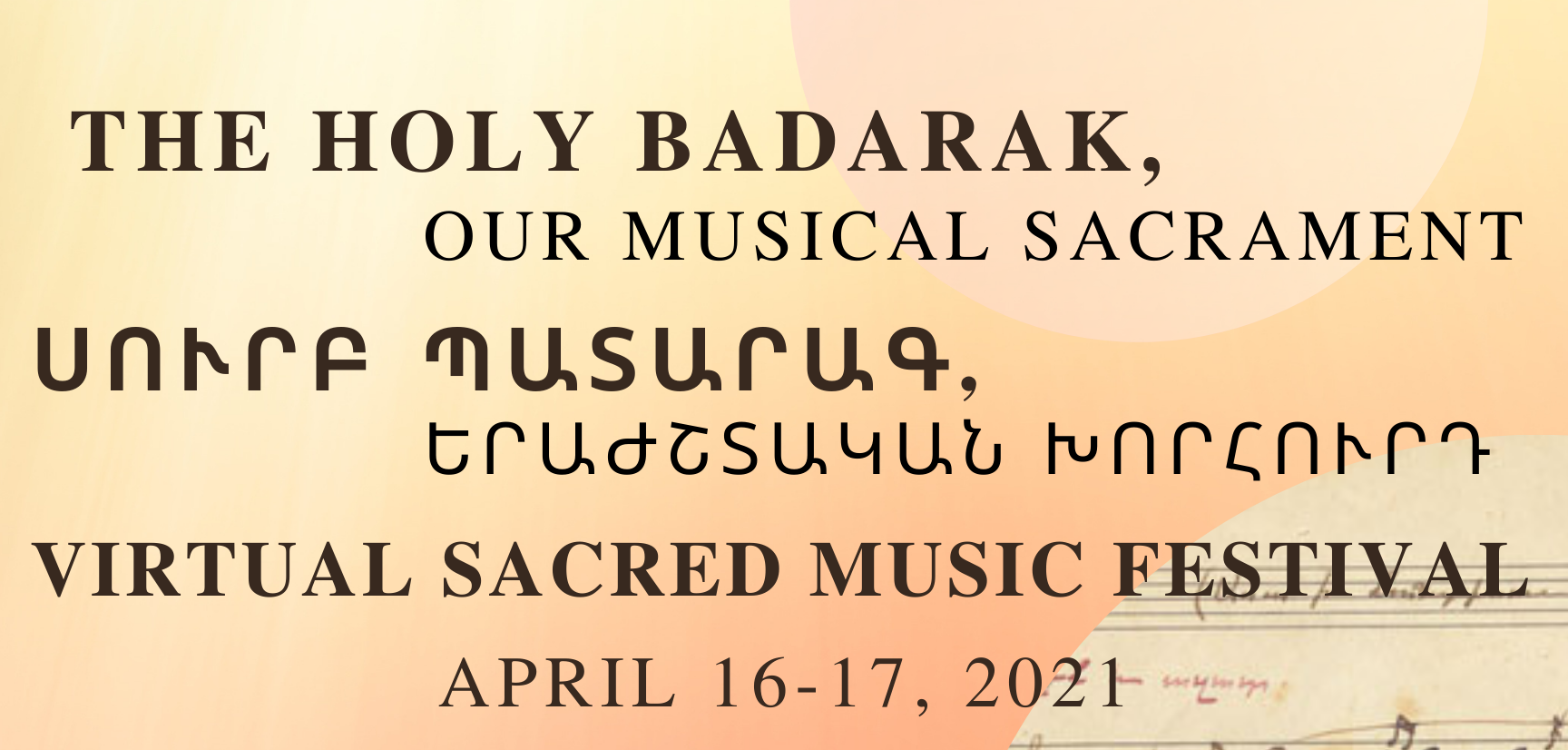 The Sacred Music Festival of the Eastern Diocese of the Armenian Church in America—a two-day celebration of Armenian church music—will run Friday and Saturday, April 16-17, 2021.  The festival is open to all church musicians—both singers and instrumentalists—indeed to all who love Armenian liturgical music and wish to elevate their understanding and improve their performance. Conceived by the Diocese's Sacred Music Council, the festival will feature educational presentations, performances, and a lecture recital - all organized and led by experts.
The Sacred Music Festival will begin Friday evening with vespers followed by Bishop Daniel's Welcome message. Dn. Haig Utidjian will present a lecture-recital "The Celestial Melodies of the Armenian Divine Liturgy." In this lecture recital we will explore the development of the melodies of the Badarak - from early manuscript sources that use the Armenian "khaz" notation to the nineteenth century, when melodies were sung in Venice, India, the Caucasus and Constantinople - culminating in the rich legacy available to us today. Musical illustrations will be used, and very recent research entailing forgotten traditions and hitherto neglected sources will be presented.
Saturday will begin with morning service and Bishop Daniel's presentation "The Holy Badarak: Our Musical Sacrament." The musical pearls of the Badarak will be the focus of the afternoon sessions: Rev. Fr. Arshen Ayvazian and Rev. Fr. Avedis Kalayjian will present various Meghetees (Melodies and Odes) and Midday Hymns (Jashoo Sharagans), respectfully. Rev. Fr. Voskan Hovhannisyan and Mrs. Edita Dolunts-Kalayjian will perform examples of each of those variables.
Deacon Rubik Mailian will discuss how to replace the traditional Divine Liturgy songs with new songs, enabling prayers to be full and rich instead of repetitive.  He will offer examples of solo and choir songs, and will teach two new songs.  
Participants will have several opportunities for fellowship during virtual coffee breaks and lunch.
Geeragamdeets ("Entering the Day of the Lord")  Vespers will conclude the two day virtual celebration of the Armenian Church music and musicians.
Click here to register.
PRESENTERS