DN. RUBIK MAILIAN
"Sing a New Song unto the Lord"
Presentation on Saturday, April 17 at 2:45 PM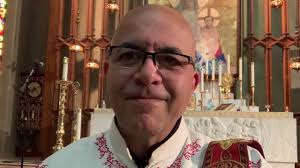 Rubik Mailian is the Artistic Director and Conductor of the Detroit Armenian Chorale, and the Komitas Choir at St. John Armenian Church in Southfield, Michigan. He holds graduate level music and theology degrees from the University of Houston, St. Nersess Seminary, and St. Vladimir's Seminary. An accomplished vocalist, he has performed with numerous nationally recognized opera theaters and symphony orchestras. Rubik has presented many articles and lectures on the subject of Armenian Music especially history, practice and the performance of early Armenian Church Music in the Eastern and Western Diocese of Armenian church in the United States and in Europe. He is an active member of American Choral Directors Association, and has served on the Diocesan Liturgical committees for the publication of new books, and as a Chairman of the Sacred Music Council at the Eastern Diocese in New York for many years.
Click here to register for the Virtual Sacred Music Festival- Spring 2021.