CELEBRATING ARMENIAN CHURCH MUSIC AND MUSICIANS:
EASTERN DIOCESE HOLDS SACRED MUSIC FESTIVAL
by Gevik Anbarchian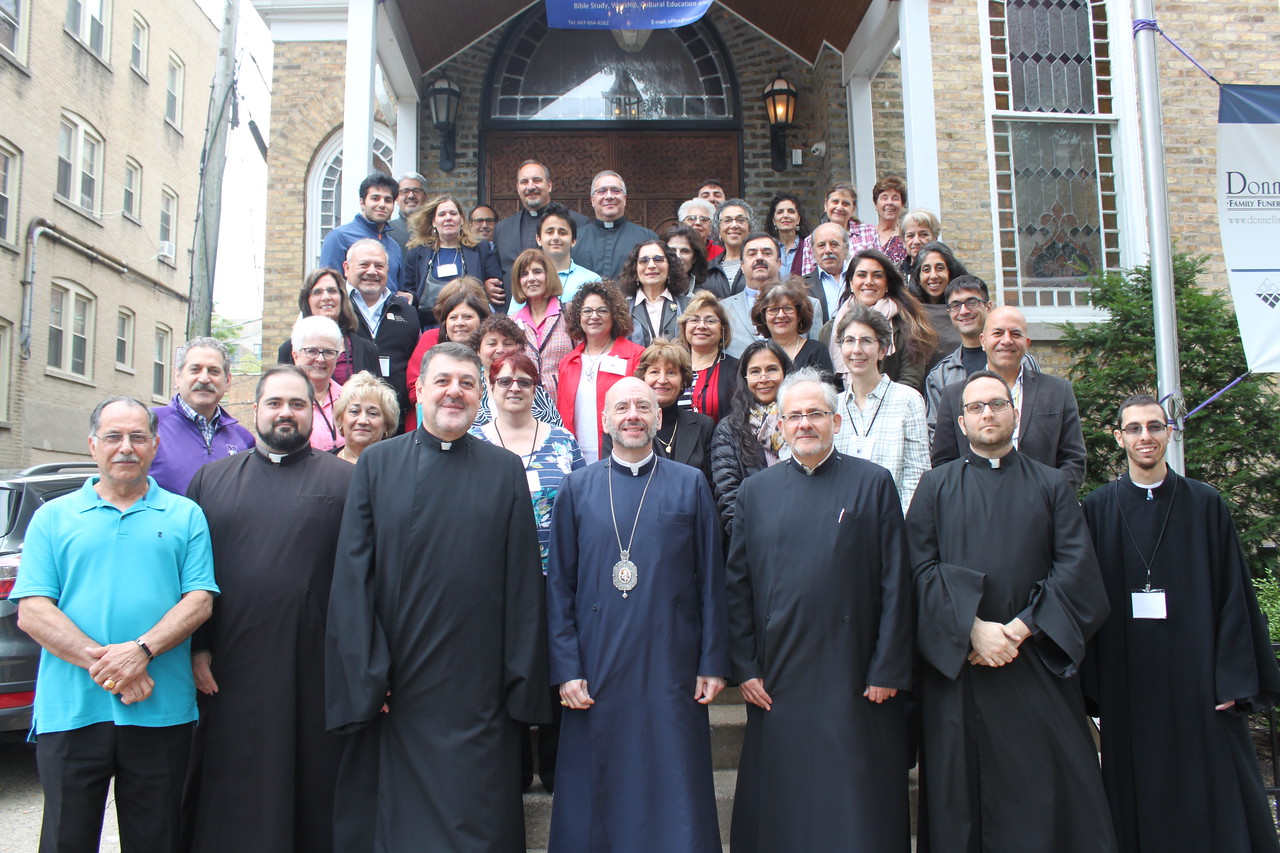 Armenian Church musicians from throughout the United States gathered at St. James of Nisibis Armenian Church in Evanston, IL on October 4-6, 2019 for an innovative weekend of lectures, workshops and performances of the Armenian Church's sacred music. The event was organized by the Sacred Music Council of the Eastern Diocese with the blessing of His Grace, Bishop Daniel, Primate.
"Our goal is to revive the tradition of magnificent, faith-inspiring Armenian sacred music within our parishes," the Bishop said at the outset of his own presentation on Saturday morning, "I'd like to see the festival become a regular part of our church calendar, being held several times a year both regionally and nationally throughout the Diocese."
Fr. Hovhan Khoja-Eynatyan, pastor of St. James and Chair of the Sacred Music Council, spearheaded the organization of the weekend together with a small committee led by Deacon Larry and Wendy Farsakian, with the eager participation of a number of his parishioners.
"Father Hovhan, himself a musician by training, immediately understood my goals for the weekend and took up the initiative with great enthusiasm," Bishop Daniel explained.
"This weekend demonstrates how much our diocese can do if we bring together our wealth of talent," Der Hovhan said.
The Festival began Friday evening with a reception for parish choir directors and clergy hosted by the Primate, followed by Vespers and dinner. After dinner, the weekend got off to a joyous start with a prelude performance by St. James' NAREK Bell Choir, an ensemble that Der Hovhan formed last year as a way for the children of his parish to better connect with the Church.
Deacon Rubik Mailian, Music Director of St. John Armenian Church in Southfield, MI, presented a keynote lecture-recital entitled, Gomidas Vartabed at 150 Years: His Contribution to Armenian Sacred Music. This year marks the hundred-fiftieth anniversary of the birth of Gomidas Vartabed (1869-1935), a celibate priest and ethnomusicologist who traveled the Armenian countryside recording and notating the myriad of folk songs that had been passed down orally for centuries. As a clergyman, he also transcribed many sharagans (hymns), and composed several versions of the Armenian Divine Liturgy, the Soorp Badarak ("Holy Sacrifice").
Tragically, on April 24, 1915, Gomidas Vartabed was among the over two hundred Armenian intellectuals and community leaders who were deported by the Turkish authorities from Constantinople to holding centers in Angora (Ankara) in what marked the beginning of the Armenian Genocide. While he escaped execution, Gomidas was afflicted with traumatic neurosis. He was eventually moved to Paris in 1919 and died in a psychiatric clinic in the Paris commune of Villejuif in 1935. His ashes were transferred to Yerevan the following year and buried in the pantheon that was named after him.
The festival continued in earnest on Saturday morning with morning worship followed by Bishop Daniel's keynote address entitled, When Armenians Sing with the Angels, in which he spoke about the power of our liturgical tradition, with its combination of music, theology and prayerful poetry, to create a sacred space that draws us into communion with God and with one another, "a space where we can perceive the true mystery of God's presence in our midst."
Bishop Daniel recalled his experience in Rome as a doctoral student when, "My Catholic Jesuit professors often stated publicly in the classroom that the Armenian Church's liturgical tradition is the most sublime in all of Christendom. For many reasons—antiquity, simplicity, theological sophistication—but in addition because of the beauty and power of our sacred music, our liturgical music. I was usually the only Armenian in the classroom."
The day continued with a variety of simultaneous workshops for vocalists, altar servers, choir members, choir directors and organists. Deacon Rubik presented a fascinating workshop on the aging voice, or what he prefers to describe as "the evolving voice." He detailed what singers can do to maintain their voices in spite of age-related changes in such things as posture, breathing and sound production.
"You shouldn't become disheartened by the natural aging process. Just like the muscles you work out at a gym, the human voice can be maintained by various exercises that become even more vital as a person ages. Nutrition and regular exercise are also key to maintaining your voice."
New York-based Argentinian-Armenian mezzo-soprano Solange Merdinian conducted a vocal training and technique workshop for singers focusing on visualization and technical exercises for key choral skills such as phonation, posture and breath support.
"It's a fantastic initiative to bring our community together through musical education and studying our musical tradition," she observed.
The Festival was also blessed to have Very Rev. Mamigon Kiledjian, the Diocesan Instructor of Sacred Music. He led a series of workshops and tutorials on the history and role of the organ in the Badarak. Fr. Mamigon also spoke about techniques to assist altar servers, the choir and even the celebrant to stay in tune with the organist. He further discussed the role of organ improvisation in the Badarak.
"It was inspirational to be part of this first such festival, especially as it coincides with the one-hundred fiftieth anniversary of Gomitas Vartabed's birth," Fr. Mamigon said. 
In other sessions, Fr. Hovhan surveyed the numerous digital resources that the Sacred Music Council has recently created, including sharagans with full musical notation and audio recordings, as well as the Giragatsooyts, which provides choir directors and others with all of the musical and liturgical variables for each Sunday of the year. Fr. Hovhan and his son Alexander, both trained percussionists, later offered a session for instrumentalists, in which they explored how other musical instruments might be used to perform sacred music.
Sevag Derderian, Chair of the Association of Armenian Church Choirs of the Western Diocese (AACCWD), focused on weaving the thread of sacred music into the lives of our youth. The AACCWD has developed an innovative Sunday School music curriculum, that includes a set of instructional videos, to teach our young people the hymns of the Badarak.  
Before dinner, attendees rehearsed two key hymns of the Gomidas Badarak, "Hayr Mer" ("Our Father" (i.e., the Lord's Prayer) and "Soorp, Soorp," ("Holy, Holy"), in preparation for Sunday's episcopal Badarak.
The evening concluded with a screening of the documentary, Singing in Exile, featuring the AKN Armenian Choir of Paris, which is reviving an ancient style of Armenian sacred chant. The screening was followed by a Q and A session via Skype from Paris with Aram and Virginia Kerovpyan, co-founders of the AKN Choir, which was organized and moderated by Deacon Kavork Hagopian, choir director and organist at St. James.
Clergy and lay people alike expressed much joy for attending the weekend festival. "I was moved by the enthusiasm of the participants and their eagerness to learn as much as possible," said Fr. Avedis Kalayjian, Pastor of St. Mesrob Armenian Church in Racine, Wisconsin.
Karinne' Andonian, choir conductor at Holy Trinity Armenian Church in Cheltenham, Pennsylvania, found it encouraging "to learn ways to help our choir members grow in their musical and spiritual expression. It's been validating and encouraging to my own expression of the Badarak as a conductor."
For John Paklaian, subdeacon at St. Gregory the Illuminator Armenian Church in Chicago, the festival was a continuation of an endeavor he had begun as a child. "As someone who grew up in the Armenian Church and learned from an early age our liturgical music tradition, I have always sought a better understanding of the interaction between altar servers, choir members and the organist during Badarak. This festival was helpful in raising the level of consciousness of those who serve the Armenian Church through song. We were blessed to have such wonderful presenters!"
Pat Der Matosian-McCoy of the host parish described the experience as, "A wonderful opportunity to work on our singing and learn new vocal techniques. Daniel Srpazan's keynote was particularly instructive and inspiring."
St. James is an ideal location for church gatherings. Located just north of the city, attendees spent their free moments during this early autumn weekend enjoying the coziness of downtown Evanston with its many restaurants, cafes and shops or taking walks through beautiful adjoining Northwestern University along its gorgeous Lake Michigan shoreline with its vista of downtown Chicago.
Varya Petrosyan, parent of two NAREK Bell Choir performers, sees Der Hovhan's initiative as a great way to encourage kids to attend church. "Children feel they have a role and a purpose at church, and coming to church becomes more natural. Parents don't have to convince them to attend, especially as they get older."
On Sunday morning Bishop Daniel celebrated Badarak at the Holy Altar of St. James with the participation of all the festival attendees. Afterwards all were invited to a luncheon in the church hall hosted by the St. James Women's Guild.
Der Hovhan considers the weekend a great success. "Every generation has to do its part to preserve and add to the rich history of music in the Armenian Apostolic Church, and we were blessed that St. James could host the first gathering of this festival."
But Bishop Daniel is eager to look ahead to the next step while celebrating this joyous beginning. "I hope that this Sacred Music Festival will be the first of many that we will organize in the regions of our Diocese. It is critically important that we inspire and equip a cadre of apostles who will "Build Up the Body of Christ" in our parishes and among our people through the spiritual power of our sacred music. We want to deepen the skills, the art and the knowledge of those that have faithfully sung in our choirs and at our altars for years. And we want to attract many more musical people—young and old—to join us in this sacred ministry."
A number of individuals made generous contributions to make this first Sacred Music Festival possible: Bishop Daniel (In memory of Diramayr Ursula Findikyan), Mr. and Mrs. Haig and Nadine Ariyan (In memory of Levon Ariyan), Ms. Melanie Dadourian (In Memory of Haig Dadourian), Der Hovhan and Yn. Narine Khoja-Eynatyan (In Memory of Dn. Socrates Boyajian), Komitas Choir of St. John's Armenian Church (Southfiled, MI), Dr. Sam Mikaelian, Hayr Simeon Odabashian (In memory of Diramayr Zabel Odabashian) and the Tatosian Family. The Festival was also supported by the Bishop's Ministries Fund of the Diocese.
Click on the links to view photos of day one, day two, and day three of the Diocese's Sacred Music Festival.
Click here to read CELEBRATING THE HERITAGE OF ARMENIAN SACRED MUSIC published by the Eastern Diocese