SACRED MUSIC COUNCIL KEEPS CHURCH MUSICIANS CONNECTED WITH VIRTUAL FESTIVAL
 by Gevik Anbarchian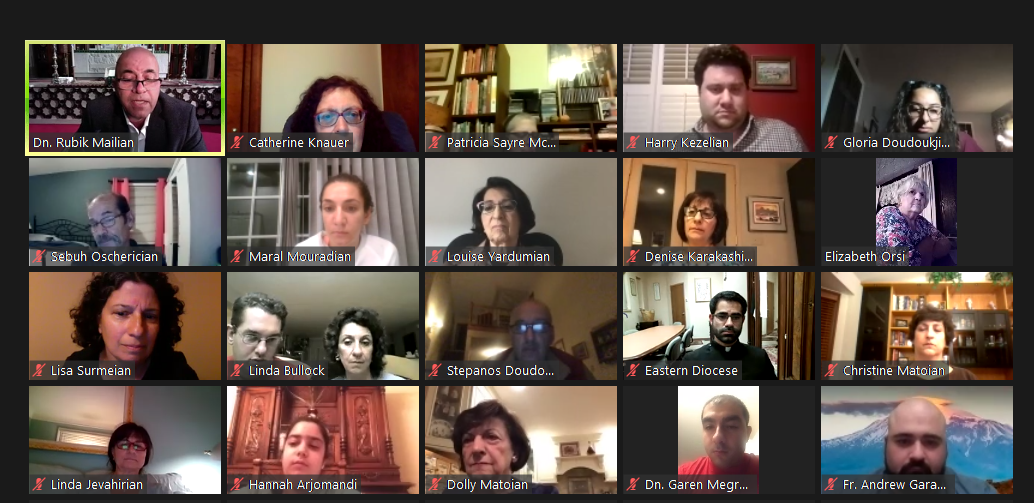 On October 23-24, the Eastern Diocese of the Armenian Church of America held its second annual Sacred Music Festival, a gathering of choir singers, directors, instrumentalists and Armenian sacred music aficionados throughout the Diocese. Primate Bishop Daniel Findikyan presided over the two-day virtual festival. The festival was open to all who love Armenian liturgical music and wish to elevate their understanding and improve their performance and featured instructional workshops, educational seminars and recitals led by experts.
Conceived by the Diocese's Sacred Music Council, the festival was organized by a subcommittee consisting of Very Rev. Fr. Mamigon Kiledjian, Diocesan Instructor of Sacred Music; Deacon Rubik Mailian, Director of Music at St. John's Armenian Church of Greater Detroit; Deacon Michael Sabounjian, pastoral intern at Sts. Sahag and Mesrob Armenian Church in Providence, RI and Deacon Ari Terjanian of St. Gregory of Narek Church in Richmond Heights, OH.  
The festival began on Friday evening with vespers service, followed by Bishop Daniel's welcome message in which he stressed the importance of the annual festival: "The sacred music of our church is unbelievably rich but sadly unknown. What we hear in our parishes from week to week represents maybe one percent of our marvelous musical tradition. The Sacred Music Festival aims to recover that music and teach it to our people to enhance the power and beauty of our worship and to attract many more people to our church, from young people to accomplished musicians."
Dn. Rubik concluded the evening with Looys Zuvart (Joyous Light), a lecture-recital focused on this ancient hymn retained in various liturgical traditions. 
Saturday began with morning service and Bishop Daniel's presentation "Praise for the Light: The Armenian Evening Hour Prayer." Morning breakout sessions included workshops for singers and organists on such topics as vocal and posture maintenance through nutrition and exercise, young adult instruction and hymns of the Evening Service and Badarak led by Dn. Varuzhan Margaryan, Louise Yardumian, Solange Merdinian, Sevag Derderian and Linda Bullock. 
An afternoon practice session provided an opportunity for attendees to work in small groups on the skills highlighted during the morning workshops. A vespers service, Geeragamdeets (Entering the Day of the Lord), concluded the two-day virtual celebration of Armenian Church music and musicians.
Dn. Michael was excited to participate in the festival for the first time in spite of the challenges presented by the ongoing pandemic. "When we began to make plans for this event, it was well before the pandemic, and along the way the committee needed to make some difficult choices to adapt the weekend given the unexpected limitations. I commend the members of the Sacred Music Council for their creativity and dedication in adapting this event from an in-person to a virtual event," Dn. Michael explained. 
"Rather than canceling the event, the organizing subcommittee decided to switch to an online format," Der Hovhan added. "We adjusted the schedule and some programs, and eventually everything worked out well. Deacon Michael was instrumental in working out all of the logistical and technical issues and ensuring a smooth experience for everyone. Hopefully, in the future the pandemic will be behind us, and the Sacred Music Festival will resume in-person."
"It's inspiring that so many people attended our second Sacred Music Festival in spite of the limitations of Zoom. We had more than seventy enthusiastic participants!" Dn. Rubik said. 
Given the success of this year's event, Dn. Michael sees a future for virtual instruction to complement the annual in-person gathering. "It's important to bring together Armenian Church musicians in prayer, education and fellowship on a regular basis. It raises us all up in our appreciation and performance of our sacred music tradition, and inspires us as we continue our music ministries in our parishes. In many ways, this virtual festival far exceeded our expectations and has invited us to consider regular virtual gatherings going forward even after the pandemic has passed."
The Sacred Music Council forwarded the proceeds from registration fees to the Armenia Fund for Artsakh. Presenters also made donations to this Fund on the occasion of the Festival, as did many generous supporters of the now annual event from across the Diocese.
Next year's Sacred Music Festival is scheduled for April 16-17. The theme, format and schedule will be announced soon.
Click here to see screenshots.
Click here for Dn. Rubik lecture/recital "Looys Zuvart (Joyous Light)"
Click here for Bishop Daniel's presentation "Praise for the Light: The Armenian Evening Hour Prayer"