SACRED MUSIC 

FESTIVAL

 2023
SHNORHALI: SINGER OF LIGHT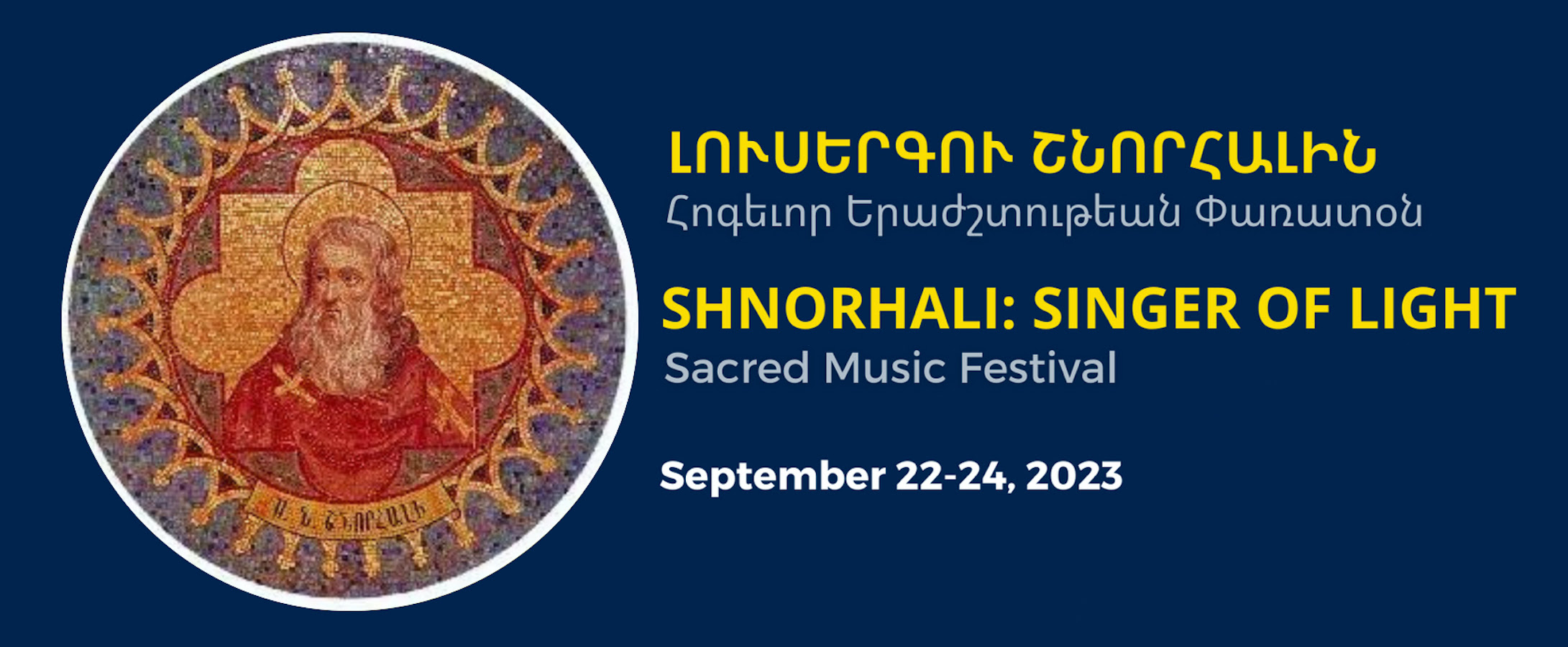 The Sacred Music Council is delighted to announce the Annual Sacred Music Festival, "Shnorhali: Singer of Light," organized under the auspices of the Primate of the Diocese of the Eastern Armenian Church, Very Reverend Father Mesrop Parsamyan, in honor of the 850th Anniversary of St. Nersess Shnorhali (1102-1173). This magnificent event will take place from September 22 to September 24 at the Holy Trinity Armenian Church in Cambridge, MA.
The festival aims to celebrate and promote the rich heritage of St. Nersess Shnohali's music within the Armenian Church, bringing together musicians, singers, organists, choir directors, and enthusiasts from various parishes of our Diocese. It promises three days of captivating experiences, educational workshops, and inspiring performances.
Scheduled Events:
Presentation by Very Rev. Fr. Mesrop Parsamyan (Primate): Our esteemed Primate, Very Rev. Fr. Mesrop Parsamyan, will grace the festival with an insightful presentation, sharing his wisdom and knowledge of the life works of St. Nersess Shnohali.
Lecture Recital: Engage in an enlightening lecture recital that delves into the profound heritage and significance of Shnorhali's sacred music.
Workshops for Organists, Choir Directors, and Singers: We have thoughtfully designed workshops tailored to organists, choir directors, and singers, providing them with an opportunity to refine their skills and explore new techniques.
Master Classes by Leading Musicians: Renowned musicians will conduct master classes, guiding attendees in unlocking the true essence of sacred music and refining their craft.
Learning Hymns of Various Daily Services by St. Nersess Shnorhali: Discover the timeless hymns composed by the revered Nersess Shnorhali and appreciate the spiritual depth they bring to daily services.

Esteemed Presenters:
Very Rev. Fr. Mamigon Kiledjan, Diocesan Instructor of Sacred Music
Deacon Rubik Mailian
Deacon Hovhannes Khosteghian
Deacon Asatur Baldjyan
Click here to read more about our presenters.
The festival will culminate in an unforgettable celebration of the Holy  Badarak on Sunday, September 24. This special Badarak will be led by the Very Reverend Father Mesrob Parsamyan, offering a unique and spiritually uplifting experience for all attendees.
We cordially invite musicians, clergy, scholars, and the general public to join us in celebrating the profound beauty of Armenian sacred music at the "Shnorhali, Singer of Light" festival. Together, let us embrace the power of music to transcend boundaries and unite souls in harmony.
Mark your calendars and register for this extraordinary celebration of sacred music. .

Click here to download the Registration form and hotel information. (Register by September 15).
Click here to download the flyer.
Click here to download the complete schedule of the Festival

For further inquiries and details, please visit our website www.armenianchurchmusic.org or contact us at This email address is being protected from spambots. You need JavaScript enabled to view it. or (847) 644-7389.
Let us come together to honor the timeless legacy of St. Nersess Shnorhali and Armenian sacred music and rejoice in the harmonious tapestry it weaves in our hearts and souls.
In harmony and service,
The Sacred Music Council