SMC WORKSHOP IN RICHMOND, MA
By Zevart Caporale, Choir Director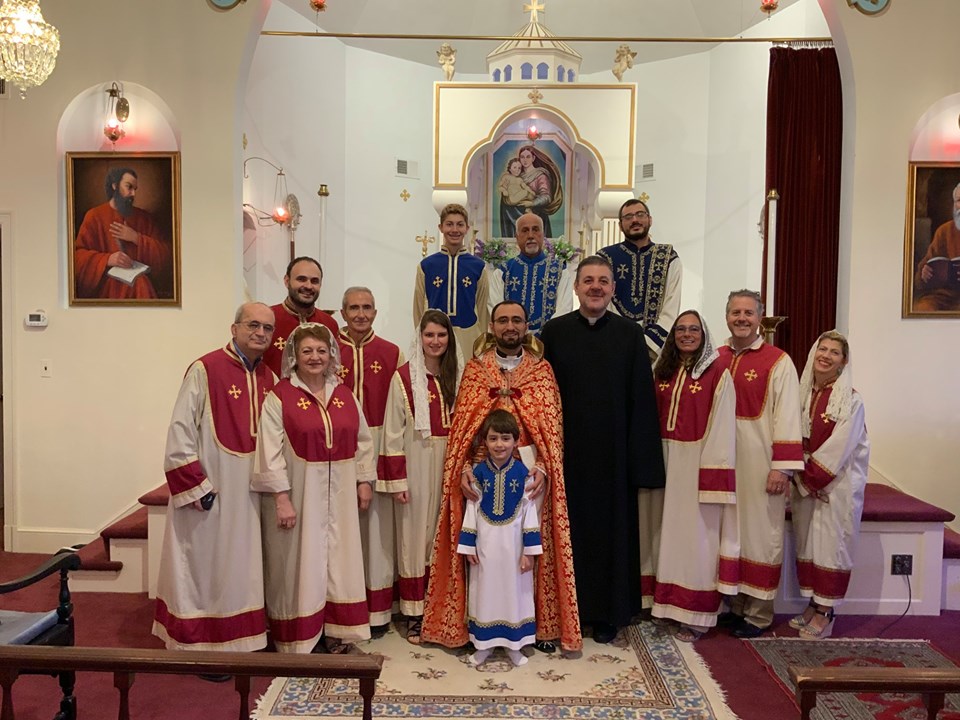 The parish of St. James Armenian Church of Richmond, Virginia welcomed Hayr Soorp Mamigon Kiledjian to conduct a four day choir workshop on June 6-9. 2019.
Prior to the visit, we had sent him a schedule of some things we wanted to work on. During the four days he was with us, Hayr Soorp worked with our conductor, choir members, soloists, organists and deacons on all facets of the Badarak. He worked tirelessly with us both individually and as a group and taught us breathing excercises, intonation, conducting basics, Jashoo Sharagans, songs of the Badarak and anything that came up during our rehearsals. As we rehearsed with him, he recorded specific songs on our phones so that we could listen and learn. It was a way of having him here when he left.
Hayr Soorp also worked with our youth both vocally and on the organ, encouraging the youth to be groomed as choir members and organists. The children, as well as the adults, enjoyed working with him.
Each participant had a wonderful time as he helped us become a better choir. We learned, laughed and enjoyed every moment Hayr Soorp spent with us.
On Sunday, during the Badarak, we knew that all the hard work that we put into the workshop was worth it. It was important to us to show Hayr Soorp how much we learned and how much we appreciated him coming to our parish. We received complimentary comments from the congregation about how wonderful we sounded. This, in turn, gave us a great sense of satisfaction that we were able to achieve our goal to learn and improve.
During his stay with us, he issued to us a challenge which we fully expect to meet. We are already looking forward to the next time Hayr Soorp comes to our parish.
Click here to view photos.
GOMIDAS BADARAK BROUGHT TO LIFE IN SOUTHFIELD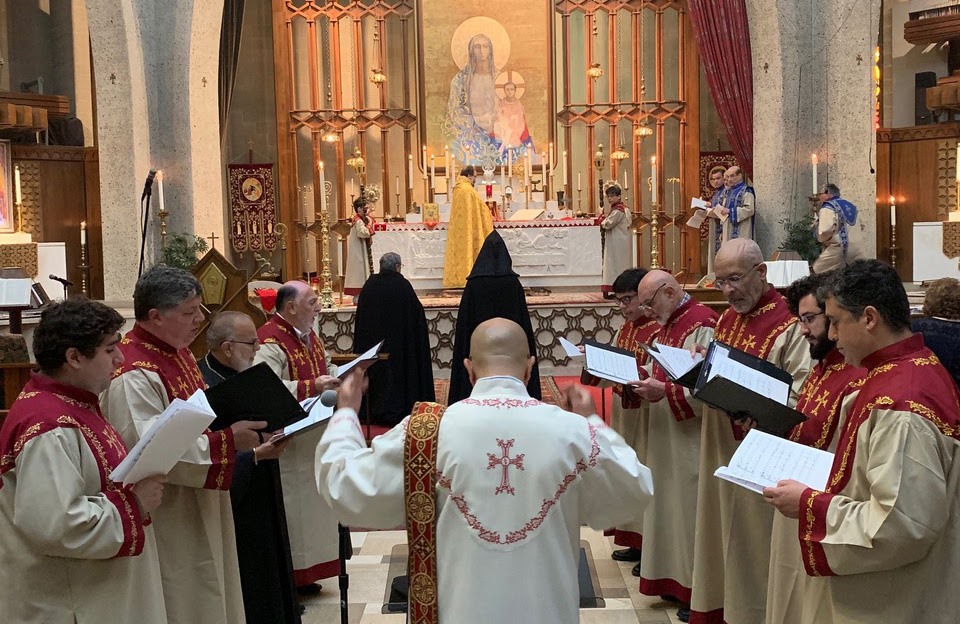 Like most Armenian churches, the St. John Church (Southfield, MI) celebrates badarak every Sunday using the musical setting of Magar Yegmalian. But on June 2, worshipers at the church had a very different liturgical experience.
To mark the 150th anniversary of Gomidas Vartabed's birth, the St. John Men's Choir sang the Gomidasian setting of the Divine Liturgy—as originally conceived for male voices. The newly-established ensemble was organized and directed by Dn. Rubik Mailian, the parish's music director, as a tribute to Gomidas: the greatest figure of Armenian music. Members of the St. John Men's Choir include Richard Blauvelt, John Yavruian, Serge Boyakjon, James Omartian, Fr. Garabed Kochakian, Garo Boyajian, Vaughn Masropian, Logan Dell'Acqua, and Barry Smith.
Parishioners were mesmerized by the music. "Our beautiful sharagans are deeply rooted in my heart," said parishioner Linda Tiffany, "but hearing them sung by the acapella Men's Choir left me in awe."
In a sermon, St. John's assistant pastor Fr. Armash Bagdasarian spoke about his personal experience visiting the house on Kinali Island where Gomidas had once lived and composed. The church plans to celebrate the Gomidas Badarak again in September, when pastor Fr. Aren Jebejian will be the celebrant.
(from the diocesan E-Newsletter)
CHOIR WORKSHOP MAKES CLEVELAND SING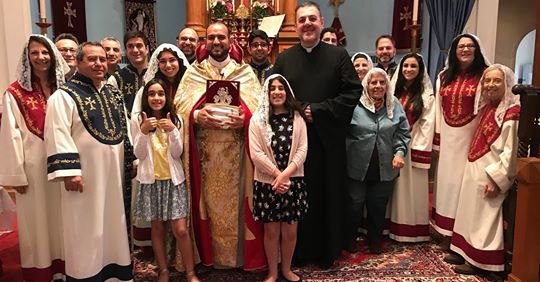 The St. Gregory of Narek Church of Cleveland, OH, welcomed Diocesan instructor of Sacred Music Fr. Mamigon Kiledjian for a weekend of in-depth training on June 1-2. Workshops for choir members and altar servers were sponsored by the Diocese's Sacred Music Council, and organized by Cleveland's choir director, Dn. Ari Terjanian.
Topics included basic vocal training, the importance of warm-ups, interpreting the music in its liturgical context, communication from the conductor, and the discipline of regular rehearsal. The choir also began learning the badarak setting of Gomidas Vartabed. Deacons reviewed all the chanted litanies under the instruction of Fr. Kiledjian.
"The workshop excited our longtime singers and deacons," said pastor Fr. Hratch Sargsyan. "But it also turned out to be an opportunity to recruit and engage new choir members. We plan to have Hayr Mamigon visit us again in the near future."
(from the diocesan E-Newsletter)
Click here to view photos.

SMC OFFERS SERIES OF WORKSHOPS THROUGHOUT THE DIOCESE
On November 29-December 2 the St. George Armenian Church of Hartford, CT, welcomed Very Rev. Fr. Mamigon Kiledjian to conduct liturgical music workshops.
Fr. Mamigon - a concert organist - worked with the parish's young organist Emma Lopez on the skills required to accompany the hymns of the Badarak. He also spent time going over the sacred music, and especially the jashoo hymns, with Gregory Norsigian and the choir. With the altar servers, Fr. Kildejian taught the Chilingirian settings of several sharagans. On Sunday, Fr. Kildejian led the choir while accompanying on the organ.

"It was a very productive workshop," said Fr. Zohrabian, the pastor of St. George Armenian Church. "With his incredible knowledge of music, Hayr Sourp helped improve the sound of our choir and altar servers. Our Badarak has begun to sound much more reverent and synchronized."
On December 5 - 9 Very Rev. Fr. Mamigon Kiledjian visited the St. Sarkis Armenian Church of Dallas, TX, for a week of workshops.
The workshop for altar servers and deacons focused on singing the deacon's part in the Divine Liturgy. Fr. Kiledjian made special use of the Deacons' Guide to the Divine Liturgy, penned by the late Patriarch Torkom Manoogian and reissued by the Eastern Diocese. During Sunday Badarak, celebrated by parish pastor Fr. Ghevond Ajamian, Fr. Kiledjian joined the altar servers in chanting the deacon's parts and helped the choir with singing the proper melodies. Other workshops took place for the choir and for the organist. Fr. Mamigon also had an opportunity to spend some time with the children's choir recently organized by Yeretzgeen Hasmik Ajamian.

It was the third event in the series of workshops by SMC for this parish. Maestro Khoren Mekanejian visited the parish in October 2017. Fr. Mamigon worked with the altar servers and the choir of St. Sarkis in May 2018. and he will return to Dallas to continue working with the parishioners as they prepare for the consecration of their new church in 2020.
On November 30 St. Gregory the Illuminator Armenian Church in Chicago, IL hosted a workshop for junior choir directors of Midwest. Mrs. Daniella Ashbahian (from St. Leon's Armenian Church in Fairlawn, NJ) and Mrs. Linda Bullock (from Armenian Our Savior Church in Worcester, MA) shared their experience working with junior choirs in their parishes - developing curriculum, cooperating with Sunday School, etc - as well as led a discussion on how to lead a successful junior choir in small parishes.